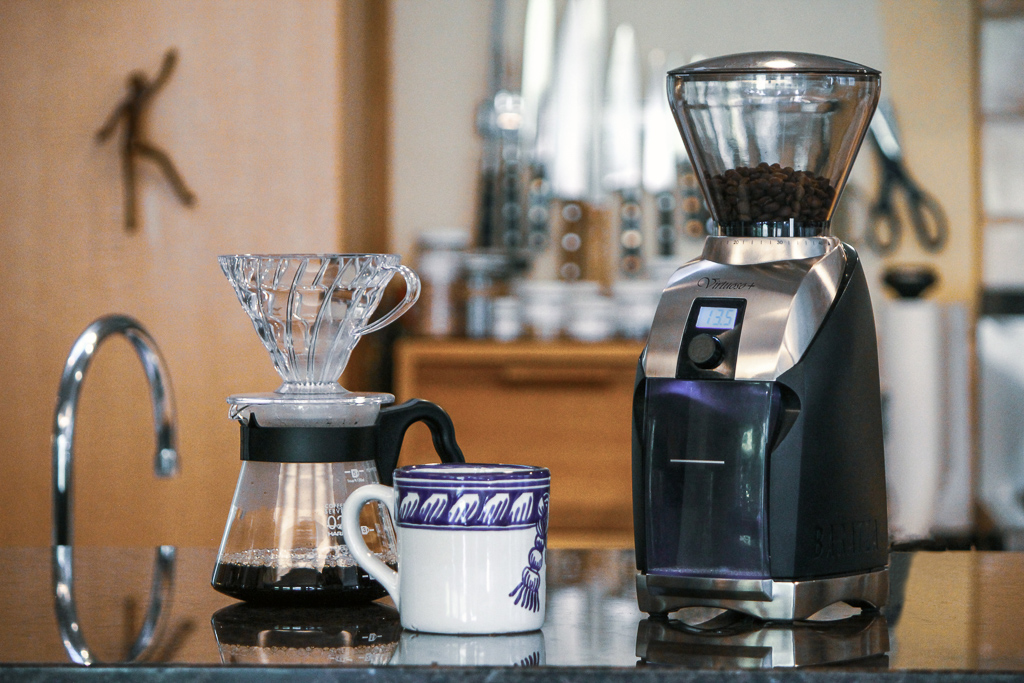 Did you know coffee begins to start losing some of its flavor and aromatics as soon as it is ground? Grinding your coffee beans fresh is one of the best ways to brew a more flavorful cup of coffee.
If you like to have the flexibility of grinding for different brewing devices or wish to get the most flavor out of your coffee, you may want to consider grinding your coffee before brewing.
Blade vs. Burr Grinder
Blade grinders heat the coffee as they operate due to friction. Many blade grinders have a button that must be held down to grind; depending on who is grinding the coffee, it is harder to achieve a consistent grind on a blade grinder.
Burr grinders have two revolving abrasive surfaces ("burrs"). Burr grinders slice through coffee beans more consistently which is best for brewing flavorful coffee.
Why we Like Burr Grinders
Burr grinders help you brew coffee-shop quality coffee at your home or office. The Red Cedar Coffee Co. Tasting Room features a couple burr grinder models.
The Encore and Virtuoso+ grinders are manufactured by Baratza which has one of the best warranties on the market. Baratza's grinders have been designed for longevity. Both models have a storage hopper that can hold about half a pound of coffee.
The Encore is a great entry level burr grinder.
The Encore is lighter and has a small footprint.
The Virtuoso+ grinds coffee faster compared to the Encore.
Features a 60-second timed grind switch which is helpful when storing coffee beans in the hopper.
There is an LED back-light for the ground coffee bin so you know how much coffee you are grinding.
Hand Coffee Grinders
If you have the need to travel with your coffee grinder, or just prefer a manual model, our Tasting Room offers the Hario Ceramic Coffee Mill Skerton Plus. This grinder comes with a lid that can be used to store ground coffee. This model features a durable ceramic burr and the anti-slip cover helps ensure stable coffee grinding.
Keep your burr grinder in tip-top-shape!
Oils accumulate over time and using the Full Circle grinder cleaning tablet can help you get the most life out of your coffee grinder. If you are grinding dark roast coffees or flavored coffees, you will want to clean your grinder on a more frequent basis.
The grinder tablets have been formulated specifically to remove the coffee oils and residue on the grinder's burrs and can also prevent jamming of the grinder.
Here's a short article that explains how jams occur and how a little cleaning can prevent them.
The Full Circle grinder tablets we carry in the Tasting Room are food-grade safe and are the same quality of cleaner we use for our grinders.
https://www.redcedarcoffee.com/wp-content/uploads/HarioV60.jpg
683
1024
Anne D.
https://www.redcedarcoffee.com/wp-content/uploads/2016/04/RCC-logo-tagline-padding.jpg
Anne D.
2020-01-25 09:50:00
2020-08-21 15:06:24
Choosing a Coffee Grinder